S2K Commerce - Products Dropdown
Actions
Map Hook with Clip, One Inch, for Map Rail
Quartet® Map Hook with Clip
Map hook and clip facilitate quick and easy mounting of maps above marker boards and bulletin boards.
Great for regular use in any office or classroom environment.
In addition to maps, use it to mount projection screens and student work for display.
Use in conjunction with Quartet® map rail (sold separately).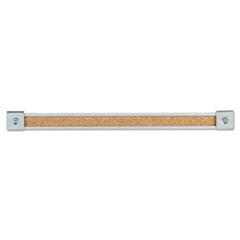 Quartet® Map Rail
Map rail provides a tackable surface to hang notes, photos and reference materials.
Ideal for regular use in business or educational environments.
Heavy-gauge aluminum frame provides extra security.
Cork surface is self-healing to eliminate unsightly pin holes and resist crumbling.
Mounts easily to any wall.